Are you ready to join us?
Who we are and what we do
Founded in 2016, Pimloc is a British technology company on a mission to advance visual AI systems in the interests of people and their freedoms. The risks associated with video surveillance have fundamentally shifted - we unknowingly give away our freedom every time we walk down the street, enter a store, commute to work or watch a game. We are developing systems that will allow businesses to increase security without compromising personal privacy.
Pimloc's technologies are powered by the latest developments in deep learning for the automated detection and redaction of personal information (PII) in video. Pimloc's Secure Redact SaaS solution (www.secureredact.co.uk) allows businesses to anonymise personal data in video so that it can be processed for security and analytics whilst still protecting privacy. This can be used for specific compliance requests to create anonymised video clips of incidents, or to anonymise live video streams for wider sharing and analytics.
Pimloc is currently working across diverse sectors including: entertainment venues, retail, hospitality, education, manufacturing, transport, healthcare, law enforcement and local government. These sectors are relying on Pimloc's services to deal with data protection compliance and to maintain trust in their operations with the public, customers and employees. Pimloc is starting to explore new markets in Smart City, autonomous driving and video privacy/security use cases.
The market opportunity is vast and growing, Pimloc has recently raised material venture capital from leading investors and now wants to expand the team to take advantage of the market and our solutions competitive advantage.

Our CEO going for a spin 🙆
Why work with us?
We fully believe in what we do.

Our product Secure Redact does exactly that: securely redacts personal data from video - and it's not just us that thinks so - we have built a strong foundation for growth but the journey is just beginning, Pimloc offers a great opportunity to join a rapidly growing business with a mission to protect the worlds personal visual data.

We live our values.

Pimloc is a great place to work - we take our culture very seriously and stand by our company values so that everyone can be themselves, take initiative and be successful.

We are building a new future.

Data protection policy is rapidly spreading across the world at the same time as global citizens are becoming more aware of their data rights and the risks associated with them. Pimloc is developing a new category for video privacy solutions and needs motivated individuals who want to be part of that change.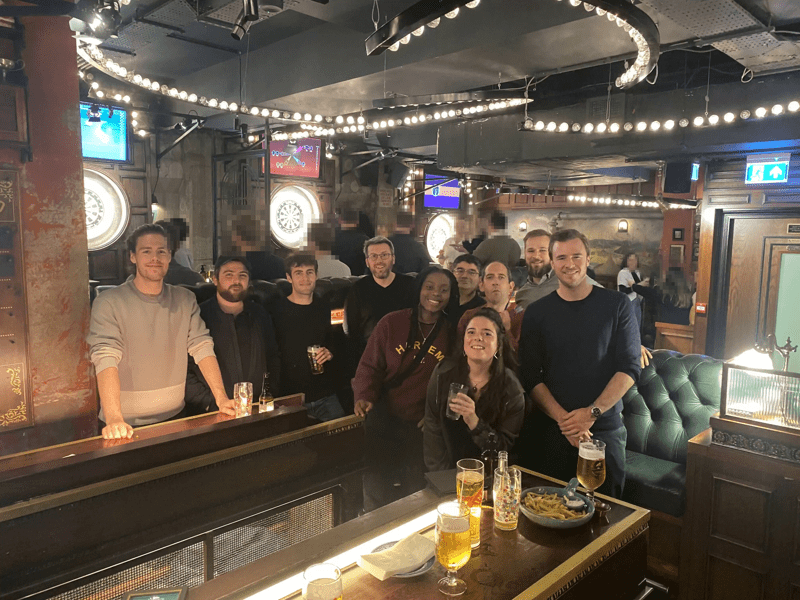 What do our people think
I've never worked anywhere where speaking up and trying out new ideas is met with such enthusiasm. Everyone has respect for everyone - no matter your position.

Emma

Marketing Communications Manager

As a fully remote hire, it was difficult to access the culture of the company and team, but the strength of the product and market is undeniable. Now that I've settled in to my first year, it's easy to see that it's the people behind the product that make it so remarkable.

David

Head of Strategic Partnerships
Already working at Pimloc?
Let's recruit together and find your next colleague.